For second year in a row since the prestigious FORBES magazine released their list of Best Schools in Spain, The British School of Barcelona has been listed among  the Best 100 Schools 2022.
Our British international school has been selected to be part of this exclusive list for our overarching culture of wellbeing and personalised support, our Digital Strategy -including our 1-to-1 devices for all students and EdTech programme- and our CPD programme for all our teaching staff.
Forbes has analysed more than 300 schools in the whole of Spain, "according to the criteria that best define excellence in the 21st century." A committee of pedagogues, psychologists and education professionals have been in charge of drawing up this list, based on "36 objective criteria dissected into seven blocks". These blocks highlight the pupil-teacher ratio, the attention to students' needs and learning support, the percentage of students who complete their school life in school, the academic results, the languages taught, the approach to digital learning, the personal development programme, the facilities and the school services, among others.
The British School of Barcelona in the FORBES list:
"This all-through British School with a UK curriculum offers an educational experience to students from Early Years to Pre-University. Its educational method is based in a culture of support and wellbeing, where students are encouraged to explore their potential, and are prepared to face the demands of a world in constant change. They count with an exhaustive student safeguarding policy, dealing with bullying, digital safety, among others.
Among its pillars we find the implementation of the 1-to-1 Devices Programme (where each student gets their own digital device), learning platforms and cutting-edge teaching software, seeking their teaching staff's specialised professional development, as well as training students in how to use technology correctly and a digital safety programme focused on the students' safeguarding and wellbeing."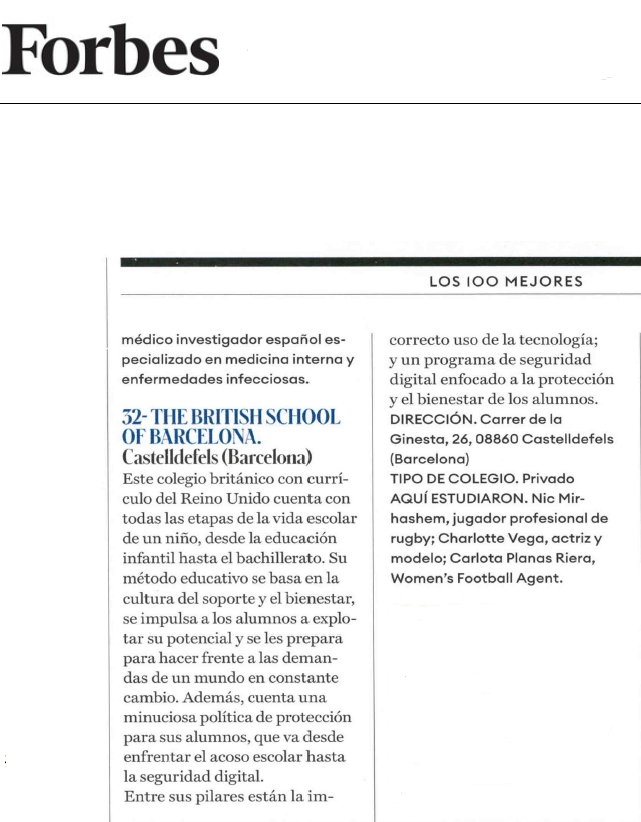 Cognita Schools also included in the FORBES list
This year we are delighted to share this recognition with seven other schools of our Cognita family in Spain: Hastings School, Colegio Europeo de Madrid (CEM), The English Montessori School (TEMS) and Mirasur School, all of them in Madrid; British School of Valencia; El Limonar International School Murcia and El Limonar International School Villamartín in Alicante.
One of the Best Schools in Spain
This is not the first time that BSB and the Cognita schools have been listed among the best schools in Spain by different prestigious rankings this year. Only recently BSB was ranked among The 30 Best International Schools in Spain by the prestigious national newspaper "El Mundo".